I LOVE PEARLS. I love how pure, simple, and beautiful they are.
I think my love of pearls began with Anne of Green Gables when she wanted  pearls for her wedding ring.
"But pearls are for tears, the old legend says," Gilbert had objected. "I'm not afraid of that. And tears can be happy as well as sad. My very happiest moments have been when I had tears in my eyes—when Marilla told me I might stay at Green Gables—when Matthew gave me the first pretty dress I ever had—when I heard that you were going to recover from the fever. So give me pearls for our troth ring, Gilbert, and I'll willingly accept the sorrow of life with its joy." -Anne"
Audrey Hepburn's favorite piece of jewelry were not diamonds but pearls and her favorite piece was a pearl necklace given to her by her then Husband Mel Ferrer.
Style icons of our day, adored pearls:
Pearls are always appropriate – Jackie Kennedy
I favor pearls onscreen and in my private life – Grace Kelly
A Woman needs ropes and ropes of pearls – Coco Channel
Here is my favorite ring that my dad makes:

Here is a video to show how to make this gorgeous ring.

Tools needed:
Here is a more in depth video on how the Pearl Ring is made: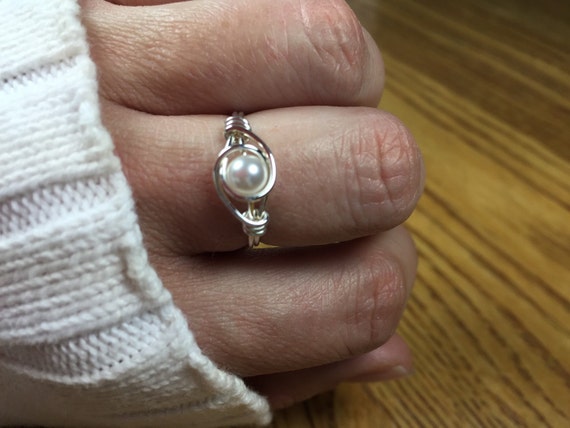 Cannot wait to see what your pearl Ring Looks like!
Tales of the Shop:
I got to live a childhood dream, I was able to go to Anne of Green Gables.
This book series means so much to me because I started reading them when my family and I were moving from Spring City UT to El Paso TX,  when I was 14 years old.  I needed something to help me with the transition, and I was able to find Anne to help me through.
When I saw Green Gables, it was everything I wanted it to be.  I will be forever grateful for my sister Nicole who made it all possible.  I look back at these pictures and feel such gratitude for being able to see something that means so much to me!
After seeing Anne of Green Gables, my whole perspective on goals and life changed.  It is important to have hopes, dreams and goals because you know what?  They may come true!  Never in my wildest dreams did I think I would be able to live in Canada and see my beloved Prince Edward Island, but it happened!